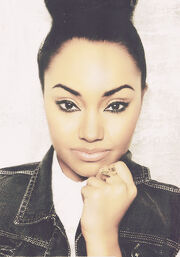 Malanean "Molly" der Berdett is one of the main protagonists of The Horror Dolls Series, as well as the Lady Royal of Great Britain 1896. She is a member of The Wickford Gang.
Malanean is a 16 year old girl standing at 54 inches tall, has chesnut colored hair with aburn steaks that are sometimes visible, has glowing blue eyes, much like Bettany and Kanenne, she is not pale, she is physically beautiful, and has a British accent that is offenly mocked, much like Victor's Irish accent. She is very fashionable. She is considered to be the most girly of the female characters. She looks like Leigh-Anne Pinncock from Little Mix.
Unlike Kanenne or Ckasey, Malanean really want to become the future Lady Royal of England.
Malanean trademark color(s) is pink, blue, yellow, and black.
She is one of the five main characters to have weird names: Malanean, Jasoniath, Kanenne, Bettanianna, and Meisha.
She is one of the five main characters to have nicknames: Bettanianna/Bettany, Elizabella/Lizabelle, Jasoniath/Jason, and Kanenne/Kane.