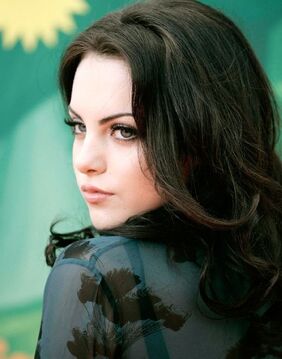 Kanenne (pronounced kaa-nin) "Kane" von Navy Deviltrorn is one of the main nine heronies as well as the main antagongist of The Horror Dolls Series. She was The Princess of Great Britain for six day until she was stricken with a paranormal mental illness called Mental Disturbia. Displeased, her parents decided that they become The King and Queen of Great Britain and send Kanenne away to a mental hospital, which was broken into by a group of wizards that killed the hospital staff as well as Kanenne. BE BACK FOR MORE INFORMATION!
Kannene is a 17 year old girl standing at 57 inches tall, has shining, ebony hair, has crystal-blue glowing eyes (like Bettany), and is pale, much like Bettany, but not as icy-white as Elizabella and Victor.  Kanenne is a Goth. Her style is Gothic-lolita, and she is obsessed with skirts and dresses. She never wore pants. She is a British Poppyspainiel and has the power of The Dark Eclispe Shadow, much like Bettany. She is the Student Body President of Wickford Academy. She can be described evil, twisted, psychotic, demeaning, insane and finicky. (She looked much like Elizabeth Gillies from Victorious in my dream.)
Kanenne tradmark color(s) is black and violet.
Kanenne was the main antagonist until the end of season 1 when she and Bettany became friends.
Kanenne second middle name is "Navy". It is referred "Raven" in one of the blog posts for some unknown reason.
Kanenne is obsessed with the nature of wicca.
Her mother stated that her name, "Kanenne", means "Lady of The Darkness" or "Woman of Insanity".